About
As a follow up to PX4 Slack -> Discord migration thread, it is important to evaluate also an open-source platform we can migrate to.
What is Matrix?
Matrix is an Open-Source messaging protocol.
How to use Matrix
Check out this article to learn how to setup your Matrix account using Element Web UI.
Basically:
In Element create your account under matrix.org (I recommend tying it to your Google sign-in, as you don't need to remember another password )
Then click the link below, to join the PX4 test space
Have fun!
Element is a private company that provides user interface to the Matrix Server & protocol. They act as a middle-man and allows you to use Matrix.
Who uses Matrix?
Well, more people than you think! Few examples include:
Raspberry Pi
GStreamer
Firefox developers
Join the PX4's Matrix Test Space!
This is what it looks like: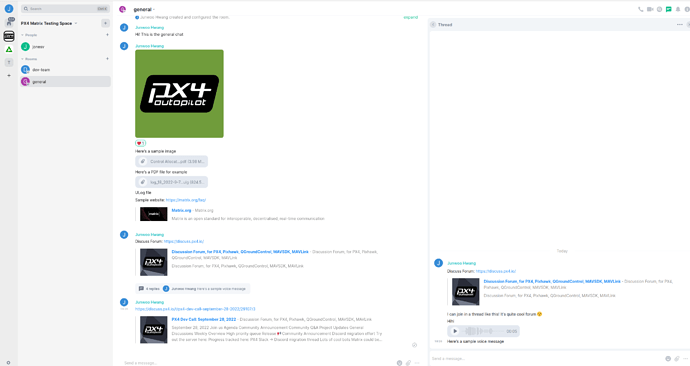 Features
Send files
React to messages
Send voice memos
Send locations (?!)
Voice calls are still not officially adopted, but was launched as beta in March, 2022!
You can find the source for the voice call here: GitHub - vector-im/element-call: Group calls powered by Matrix
Cool thing about Matrix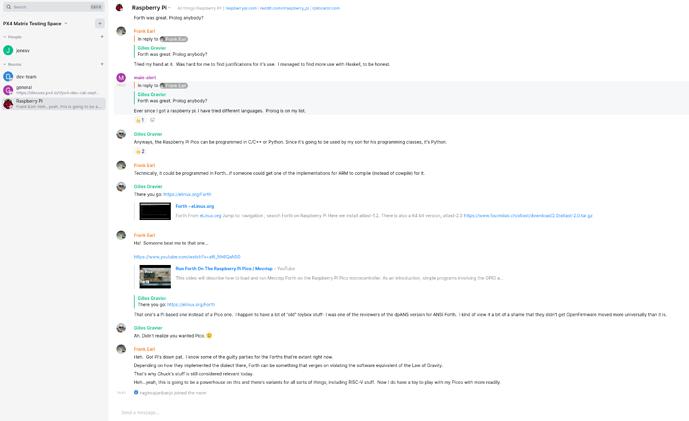 You can add rooms (equivalent to 'channel' in Slack) from Other Spaces (equivalent to 'servers' in Slack)! Here, I have added Raspberry Pi Forum's general group chat to the PX4 workspace.
You could imagine adding other organizations like this to the PX4 space ('server'), which would allow quite an interesting dynamic between different teams.