Hi,
I'm trying to set up a FrSky telemetry link using the DIY method with the MAX3232 chip breakout board from eBay as per the instructions in the GitHub page linked to by the FrSky Telemetry Docs.
I've soldered together the cable as shown in the photos and circuit diagram below and connected it between my receiver's S.Port and my flight controller's telem2 port, set the SYS_COMPANION parameter to 'Frsky Telemetry' in QGroundControl and used my transmitter to search for sensors but I can only find the RSSI and RxBt sensors from within the receiver itself. All the sensor feeds from within the Pixhawk seem to be missing.
Really, I was just wondering if anyone could tell me if I've missed something like a parameter that should be set or made any other obvious errors that would make everything work as intended?
Thanks,
Robert.
Setup details:
Flight Controller: Pixhawk 2 "Cube"
Firmware: PX4 v1.7.3 stable release
Transmitter: Taranis Q X7S
Transmitter Firmware: OpenTX v2.2.0
Receiver: Frsky X8R
Ground Control Software: QGroundControl v3.3.1
Circuit Diagram: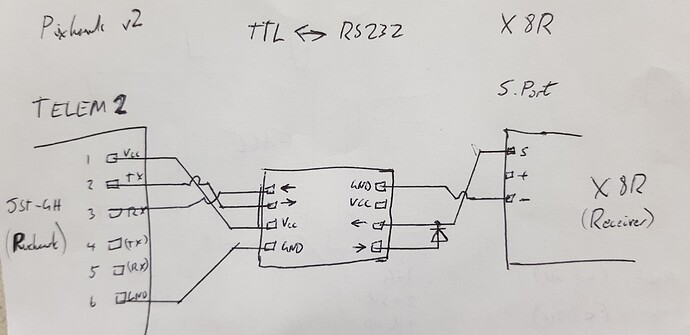 Photo of Components: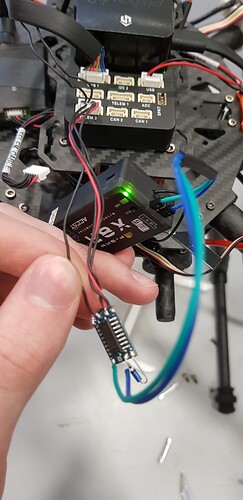 (Note that I've purposely omitted the Vcc cable on the receiver side after reading the GitHub thread related to setting this up on a Pixracer. I've checked with a multi-meter and the two V+ pins are electrically connected so this shouldn't be a problem, power being supplied to the chip from the pixhawk end and to the receiver by its connection to the RCIN port on the Pixhawk.)