Hi.
Having experience with ArduCopter and Mission Planner (MP), I decided to try PX4 and QGroundControl (QGC) on a quad. Not having experience with both, I don't know if features I find in ArduCopter/MP are not present in PX4/QGC or that I cannot find them.
For comparison, this a a mission for ArduCopter/MP (spiral of 10 circles 12 points each), which I read on QGC and saved as a .plan file, adding a poly geofence and doing minor editing: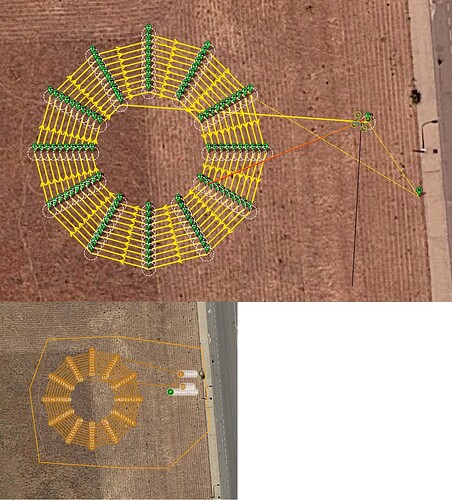 For capturing previous image, reading on QGC the mission .plan file, I couldn't zoom in it enough (fly or plan views (waypoints too close)). On plan view, saving missions waypoints as KML, and reading the .kml file on Google Earth, this was obtained:

Strangely, north is pointing right, and the mission appears elevated around 590 m over ground. So I manually edited heights in the .kml file to get this image:

Am I doing something wrong?
(Q1 below
)
This is the video of the mission on ArduCopter/MP (4K):

I wanted to get an equivalent video of the same mission on PX4/QGC.
As seen, it includes the capture of the .tlog telemetry file on MP, with two nice things:
-the hud can be detached;
-purple trace for the quad trajectory.
This is the video of PX4/QGC/MP (also 4K; QGC running on laptop):

not only with QGC trajectory capture on plan view (zoom in was not enough on fly view), but also on MP (to my surprise, MP read the .tlog file generated by QGC).
So on QGC (compare with MP video part):
-Zoom in was not enough in plan view and specially in fly view (which includes the hud). When adding offline maps I had used the maximum zoom for Google satellite maps (20).
-No quad trajectory line as in MP.
-The quad red figure appears under the waypoints.
-Almost no speech.
How can I get more zoom in in QGC? (Q2 below)
How can I get trajectory, figure over waypoints and more speech on QGC? (Q3 below)
Incidentally, I tried to include the same for APM Planner 2, but it crashes immediately reading the QGC generated .tlog file. I tried it on Windows, OSX and Ubuntu. On Ubuntu crash leaved this trace on dmesg:
[ 210.147745] show_signal_msg: 30 callbacks suppressed
[ 210.147748] TLogReplayLink[4396]: segfault at 0 ip 00000000009a24a6 sp 00007f6ae4c68bd0 error 4 in apmplanner2[400000+bfb000]
Should APM Planner 2 crash reading a QGC generated .tlog file? (Q4 below))
Comparing the real video parts of both videos it is clear that on the PX4 video the quad stops at every waypoint, which makes video too long. I don't know how to avoid this. Observing this double capture: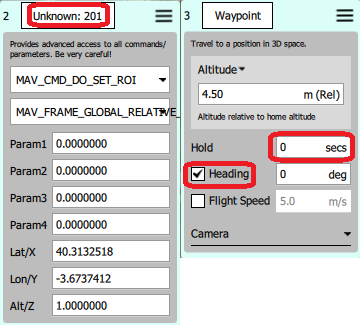 -On the left appears "Unknown" for a ROI (Region Of Interest waypoint). However, it works perfectly as seen on the video.
-I can't find documented "Hold" and "0 secs" on the right. Unchecking "Hold" on the .plan file on type 16 waypoints
"params": [
0,
0,
0,
0,
changes to
"params": [
0,
0,
0,
null,
I'll test this change shortly on all type 16 waypoints, but will appreciate any help to locate the documentation about it (Q5 below).
About tuning the PX4 parameters on the quad, I started changing roll and pitch PID's: default behaviour was nervous and unstable. After it, what can still be observed on the video is that when stopping the quad (releasing radio stick) reachs a high angle. On normal flying this can be observed for both roll and pitch. Which parameter should I change for avoiding this? (Q6 below)
About flight modes, I'm using on PX4 a two positions and a three positions switch (six modes), the same as on ArduCopter: altitude, stabilized, mission, position, land and return: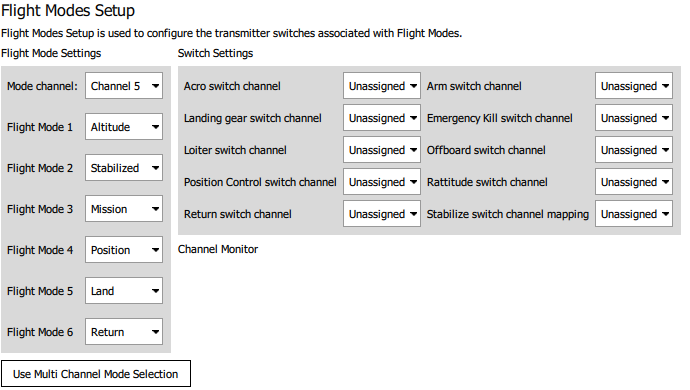 On ArduCopter there is the possibility of assigning an aditional two positions switch to an action on a different channel; I use it for "brake" mode, which stops completely the quad, so I can prepare the mobile phone for recording holding it with one hand, and releasing the "brake" mode with the other hand. PX4 has an equivalent mode (hold). How can I assign it to a different switch on another radio channel? (Q7 below)
So I'd appreciate help on the following:
Q1: abnormal .kml file generated by QGC?
Q2: more zoom in on QGC?
Q3: trajectory, figure over waypoints, and more speech on QGC?
Q4: can APM Planner 2 read a QGC generated .tlog file?
Q5: detailed documentation on PX4 waypoints?
Q6: excessive roll/pitch angle when PX4 quad stops (releasing radio stick)?
Q7: hold mode on a different switch on PX4 than the one used for changing modes?
Thanks for reading this; it was long.