Hi All,
I've created a new VTOL aircraft which is a hybrid of conventional aircraft and multi-copter. I derived it as a mix of Octo Coax Wide and adapting the Standard VTOL configuration.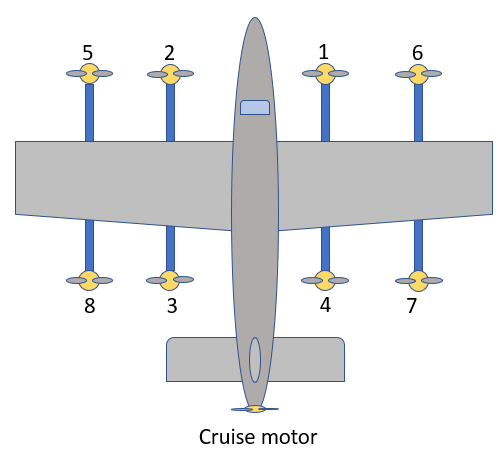 I followed the airframe reference documentation from pixhawk and successfully imported to QGC and flashed the firmware.
When I fly the aircraft it pitches up and flies backwards while lifting as if it was following the take-off procedure for helicopters to keep helipad in sight.
I researched through the forums and found that the new config needs to be defined using toml files in firmware/src/lib/mixer/geometries.
What is the method to define these files, which parameters need to be provided, what are the units (SI or Metric)?
What are the source files which will need to be created and or modified to make this configuration flyable?
I'm using pixhawk 1, FMU V2.4.8 (as marked on the case). The command that I'm allowed to use when building the firmware is make px4_fmu-v3_default at max.
Is the latest version of px4 software from github compatible for this board?
Thanks for all the help.