Hi Alexandre,
Btw, do you have experience in fusing odom pose from the stereo camera and gps ?
Hi Alexandre
By the way,
I have tried a survey pattern.
as you can see in the picture: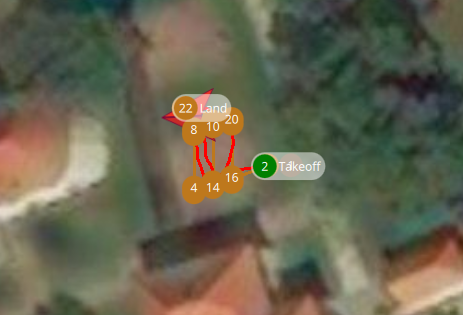 and here is the log file link:
https://logs.px4.io/plot_app?log=d20a7375-64b7-4a4e-b3e3-37150c94cc08
I do have some observations:
The xy plot does not have the shape of the trajectory as it can be seen in the picture.

The GPS and noise jamming graph shows jamming more than 80 in the beginning of the graph.
Or, what do you think about the log

Thank you

Hi Alexandre,
By the way,
I do have a 3DR GPS/COMPASS, the one that comes with the pixhawk mini.

I have tried to fuse vision + GPS and I have tried a mission planner, it simply computed a weird path and the drone crashed.
Well, I have sent you many replies, and dunno if you may have time to replay to all of them

! It suppose to go from point 2 to point 4
This is the log file.
https://logs.px4.io/plot_app?log=04f35f09-add2-449f-9cad-e071608ec6bc
sorry to hijack the thread, I have the exact same error.
GPS speed accuracy to low
The thing is arming, but no motor spin.
Please help
Here's the log(download link)
Regards
Josh