Hello, I am facing below issue where px4 log reads "No GPS Fix" & ERROR message when i am communicating rpi3 with px4 mini ( i have telemetry_2 configured for MAV_1_CONFIG onboard companion with baud rate of 921600Byts/sec ). I am advertising /relaying motion capture readings at 120 hz from optitrack motive vrpn server to mavros client running on rpi3 via ( /mavros/vision_pose/pose). And when i look at mavlink inspector LOCAL position NED is read at 0.4 HZ as seen in below image. Can any one please let me know why px4 is reading LOCAL position NED from mavros/pose at very low frequency hz of 0.4 when i am actually sending data ta 120 HZ ?. Is this an issue with px4 firmware ???
LOGS
[ INFO] [1455208868.648885761]: MAVROS started. MY ID 1.240, TARGET ID 1.1
[ INFO] [1455208868.655187917]: IMU: Attitude quaternion IMU detected!
[ INFO] [1455208868.661861685]: IMU: High resolution IMU detected!
[ INFO] [1455208868.683556680]: RC_CHANNELS message detected!
[ERROR] [1455208868.686124115]: ODOM: Ex: The tf tree is invalid because it contains a loop.
Frame local_origin_ned exists with parent local_origin.
Frame fcu_frd exists with parent fcu.
Frame fcu exists with parent fcu_frd.
[ INFO] [1455208868.690640655]: CON: Got HEARTBEAT, connected. FCU: PX4 Autopilot
[ INFO] [1455208868.696894790]: IMU: Attitude quaternion IMU detected!
[ INFO] [1455208868.701559402]: IMU: High resolution IMU detected!
[ INFO] [1455208868.783650862]: RC_CHANNELS message detected!
[ WARN] [1455208868.786806003]: GP: No GPS fix
[ INFO] [1455208869.703263563]: VER: 1.1: Capabilities 0x000000000000e4ef
[ INFO] [1455208869.704099809]: VER: 1.1: Flight software: 010900ff (ea48cd4970000000)
[ INFO] [1455208869.704671212]: VER: 1.1: Middleware software: 010900ff (ea48cd4970000000)
[ INFO] [1455208869.705255480]: VER: 1.1: OS software: 071c00ff (423371c7d4012e72)
[ INFO] [1455208869.706020789]: VER: 1.1: Board hardware: 00000032
[ INFO] [1455208869.706638234]: VER: 1.1: VID/PID: 26ac:0032
[ INFO] [1455208869.707510938]: VER: 1.1: UID: 3138511935343633
[ WARN] [1455208869.708301819]: CMD: Unexpected command 520, result 0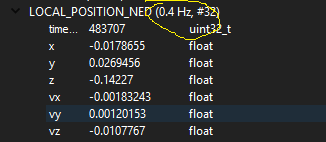 https://review.px4.io/plot_app?log=e3591764-c0e5-4e47-b50e-1d9a63f9a41d