The following is my build plan.
I'm trying to put all this in a 3" Whoop frame.
S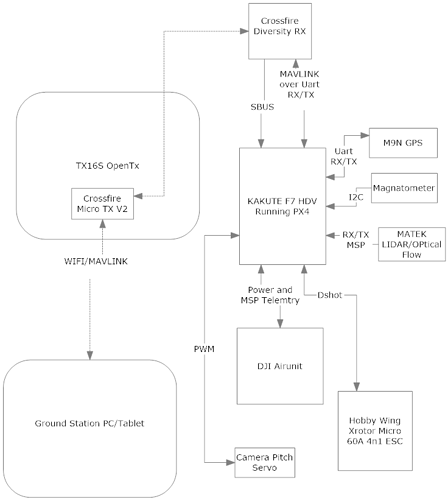 There are a lot of pieces to get working…
My plan is:
1)To get DJI airunit , ESC, basic FC working with Betaflight.
Where the DJI unit was running SBUS to provide RC into the FC.
2)Then Add the Crossfire Tx/RX swithc to TX16S/OpenTx Tx.
3)Then get the same set of parts working on PX4.
4)Then Get Mavlink working over the Crossfire
5)Work on basic PX4 tuning.
6)Then add GPS/ Magnetometer.
Work on Alt/Poshold tune.
7)Then Add Lidar/Optical Flow.
Work on Optical flow/Alt Pos hold tuning.
Several questions…
1)Anything fundamentally wrong with my plan?
2)Should I be using some other flight controller rather than the KAKUTE F7?
3)Has anybody gotten MSP telemetry working from PX4 to DJI airunit?
4)If I have a decent manual PID loop tune working in Betaflight can I transfer any of that information to PX4, or am I basically starting from scratch?
5)The KAKUTE F7 HDV does not have an isolated IMU. (MPU6000)
There is a version of KaKUTE V1.5 that does have an isolated IMU?
Should I be starting with that?
Thanks for any help.