-Holybro X500 Airframe
-Pixhawk 6C Flight Controller with Pix4 v 1.13.3
-M8N GPS
-MAVProxy bridge running on Raspberry Pi
-GCS running QGroundControl
Log: https://review.px4.io/plot_app?log=fe7cf005-88a5-49b1-98bc-d6fbcde9615b
I'm flying a X500 frame for the first time with a Pixhawk 6C controller that I have previously used successfully on another airframe.
Immediately once I give some throttle in position mode, the airframe starts to yaw rapidly with no yaw input from the control stick (confirmed with the control stick input record in the log). See the chart below where the estimated yaw velocity (red) significantly deviates from the setpoint (green).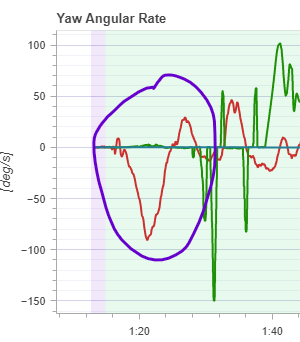 Later on in the flight, I gave a number of yaw inputs with no response in yaw on the airframe (see below). In fact, when I gave yaw inputs the airframe was more likely to change altitude with no change in yaw.

The logs are showing a lot of error messages with the language below. I don't know how to find out what 'Estimator source 8' is or how to resolve this. I have not been able to find any documentation that could assist with this message.
ERROR [mavlink] Estimator source 8 not supported. Unable to publish pose and velocity