Hello.
I am trying to land my quadcopter in offboard mode, because GPS is not available (and I could not get the Land function to work properly). Pixhawk 4 autopilot running PX4 firmware receives MAVSDK offboard commands (set_velocity_ned), and I cen see these setpoints in PX4 logs:
https://logs.px4.io/plot_app?log=f240667b-1793-4aef-ac66-043c09ff0b8a
At first the autopilot slowly increases it's velocity, but then diverges away from the setpoint when closer to ground. It can be seen here: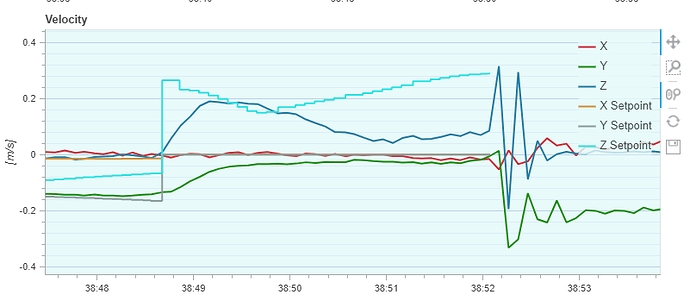 Please ignore the part where the velocity setpoint messages are stopped at 38:52.
Can someone point out what could be causing this? When I run same code in gazebo simulator, the drone always tries to follow the velocity setpoint, even if at an offset or with a delay.