Need help setting up Radio telemetry through companion computer.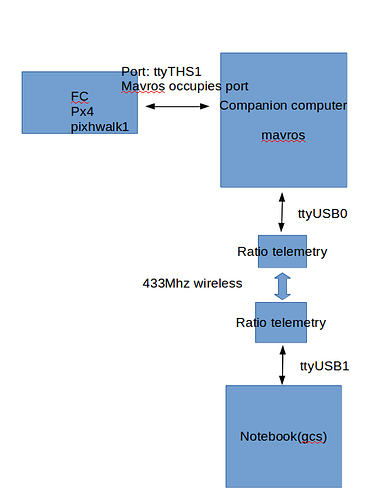 The companion computer was setup as above.
And GCS was connected through MAVROS.
   fcu_url :="udp://:14540@localhost:14557"
   gcs_url:="serial:///dev/ttyUSB0:57600" 

There is some problem with the connection as this error message is being displayed .
log:companion computer
ERROR [mavlink] instance 1: RADIO_STATUS timeout
Following popup messages is displayed on QGC.
Vehicle 1 did not respond to request for parameters. This will cause QGC to be unable to display its full user interface.
when mission is uploaded, following message is displayed:
Mission transfer faileld.Retry transfer.
Error : Mission write failed, vehicle failed to send final ack.

And ideas with how this can be solved?