I am using a motion capture system with my drone that uses PX4 and I am using the EKF estimator in firmware version 1.13.1. It has an onboard RPI that I send the position feedback too before remapping the topic to the mavros/vision_pose/pose. The issue I am having is, although it sometimes flies (loses control and almost crashes others) it cant follow the setpoints with any precision and wobbles everywhere. An example can be seen in the y-direction: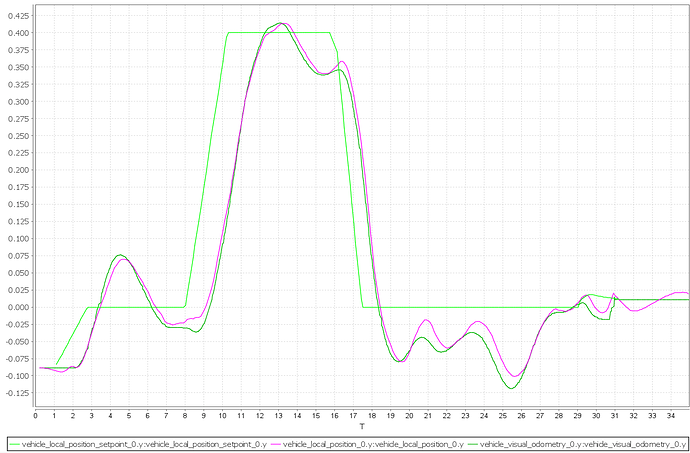 This is actually very good compared to usual as most times it wobbles way off and isnt anywhere near the setpoint. The logfile is here:
https://logs.px4.io/plot_app?log=0c3c0c88-cb76-410d-b7c9-37c7dbd9ba5a
I am not sure what the cause is, but I have flown the drone using another source of pose feedback and it has worked fine so that eliminates onboard controller tuning. One thing I have noticed is a consistent offset in attitude between the onboard local position and visual odometry: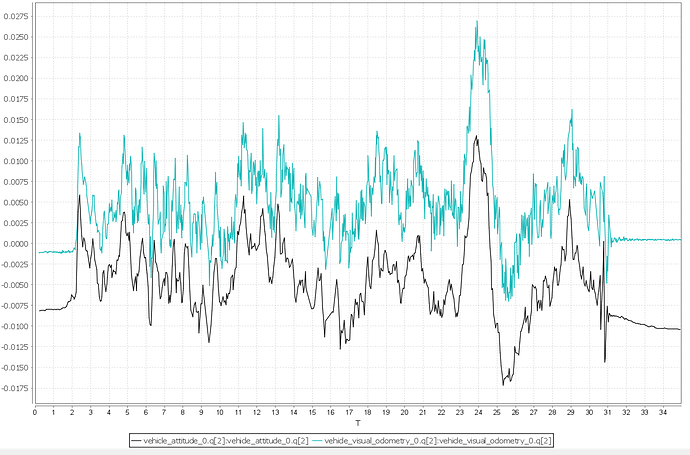 I recalibrated the drone a few times, unsure on what causes this offset. It appears in another attitude plot as well. I am streaming from motive at 120hz, the setup is time synced. One possibility I thought was the markers are smaller (sensitive to small changes) and are on the frame which can vibrate a little bit. Not sure if this destabilizes the rigid body readings. Either way I am not sure what causes this but if it is firmware or px4 related any advice would be appreciated.