Hello,
I am getting into tuning larger Quadcopters and have come across a lot of high vibrations in my logs. I would like to implement a harmonic and a notch filter. However, I just want to make sure my thinking is correct on this.
Here is my log:
https://review.px4.io/plot_app?log=f79f2b01-82fe-4844-a41a-4a6508271105
Here is an image of the frequencies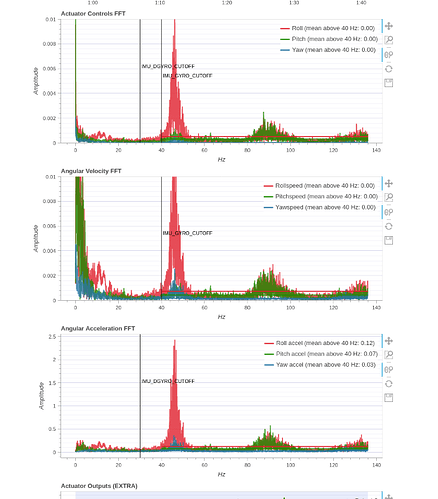 As you can see I have a large spike at around 50Hz (what I assume to be from the skids). I was going to implement a notch filter at 48Hz with a bandwidth of 10 to get rid of that large spike.
Is there any other changes I should consider regarding IMU_GYRO_CUTOFF or IMU_DGYRO_CUTOFF? I am not a controls engineer so I am a bit of a newbie on these things.
Thank you!