Hi everyone.
Out team is builidng a quadplane, but it is a little hard for us to determine what kind of flight controller to use.
We are following the instruction of building a quadplane step by step:
https://docs.px4.io/en/config_vtol/vtol_quad_configuration.html
Due to the airframe of quadplane in 'QgroundControl', we need to pick up one flight controllers among : Pixhawk 2.4.8, HKPilot32 and Pixhawk 4.
From our design, our quadplane will be installed 5 motors (4 for vertical flying) and 6 servos. I read the insturuction of wiring of Pixhawk 4, it looked really complicated since the pins are set on power management board independently . Here is the detail about wiring https://docs.px4.io/en/assembly/quick_start_pixhawk4.html
This picture is our contorl system design if we just use the Pixhawk 2 or HKpilot 32. But I was wondering withether using pixhawk 4 flight controller can increase the stability to fly the quadplane?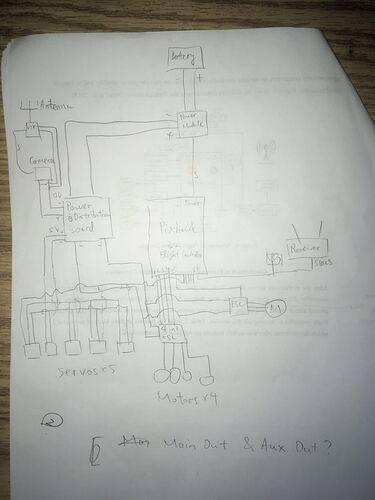 Thank you