October 05, 2022
Join us
Agenda
Community Announcement
Community Q&A
Project Updates
General Discussions
Weekly Overview
High priority queue
Release
Community Announcement
---
Discord channel is slowly getting set up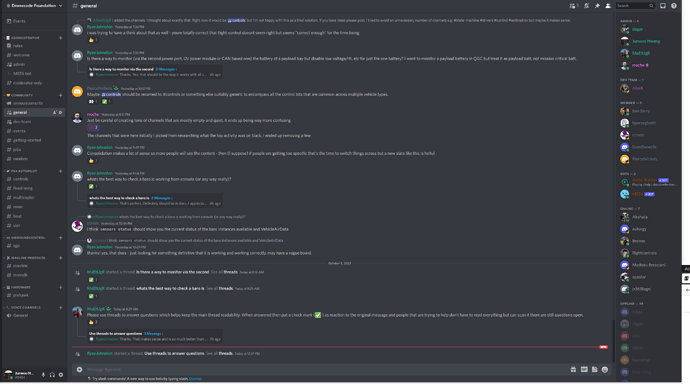 Channels Organized
Bot added for Welcome messages and role assignments
Thanks for organizing @MaEtUgR
Asking for volunteers for creating developer content
We want to have more developer content with your help!
If interested, please DM Ramon with ideas!
Community Q&A (No deep technical discussions)
---
Guideline for asking a Question
Specify what you are trying to achieve
Specify what environment / platform you are using
Prepare a Link or Document to help understand if possible
First, ask the question on the Slack or create a Github Issue!
If you take over 5 minutes for the question, please continue in Slack or a Github Issue.
Q.1 :
Project Updates
---
P.1 :
General Discussions
---
D.1 : Holybro Carrier board Ethernet connection testing
Ethernet sometimes acts weird when using Holybro Carrier board - Alex
2 boards are never working & one board used to work but now doesn't work
Through the oscilloscope, the 50V~ on the signal line is observed, maybe capacitor issue?
TODO: @david_s5 any comment on this?
D.2 : DroneCAN RPM feedback messaging
Maxon motors is using UAVCAN ESC and is wondering about it
D.3 : Changing speed in the Mission
TODO: Will start new issue to discuss how to handle DO_SET_SPEED command.
Weekly Overview
---
Github
Pull Requests
*
Issues
*
Slack
Last Dev-Call
High priority queue
---
Discussion based on: High-Priority Queue · GitHub
Release
---
Having 'pre-release' candidates (like Ubuntu), instead of having the main branch mostly would give people more confidence to try out the branch for flight testing - @mcsauder
Alpha/Beta/RC1, 2, 3, …
Having clear intermediate releases, it puts under people and gives a sense of timespan & can help people devote more resources into testing.
How do we track the testing (bench & flight) of the releases? - Daniel
We need a tool / (discuss forum) to report testings on a specific releases