November 22, 2023
Join us
Agenda
Community Announcement
Community Q&A
General Discussions
Community Announcement
---
A.1 :
Community Q&A (No deep technical discussions)
---
Guideline for asking a Question
Specify what you are trying to achieve
Specify what environment / platform you are using
Prepare a Link or Document to help understand if possible
First, ask the question on Discord or create a Github Issue!
If you take over 5 minutes for the question, please continue in Discord or a Github Issue.
Q.1 : Multirotor hold having altitude oscillations when without Laser Range Finder - Alex
When Laser Range Finder (LRF) was not working, there were oscillations happening and altitude was not being kept.
Possible issue:
GPS data was not healthy
MPC Alt Mode was set to terrain hold, so maybe it goes to undefined state without LRF
Action Item: Will share log later (apparently flight review says it is corrupted and can't open, but can open via PlotJuggler)
Q.2: Slow velocity horizontal behavior for multirotor not consistent after v1.13 - Sverre
Issue may not be fixed in v1.14, and on main it should be fixed - Matthias
Relation to currently open PR:
Q.3:
Signal strength reporting sensor data
Q.4: Custom board, but filesystem not working properly - Sangam Thampa
Daniel: Should check 'defconfig' file to chance the custom board dir value, like below
Q.5: SPI-only driver programming issue - Janardhan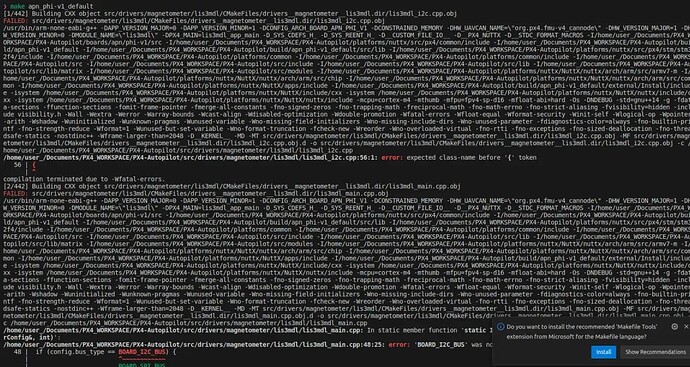 Remove all I2C stuff, then failure shouldn't happen
Also remove I2C stuff from the CMakeLists
The config pointer:


When I2C stuff is removed, results in error regarding I2C. So need to also remove that part as well.
Q.6: Docker container in Windows issue - Janardhan
Windows crashes when running the container.
Q.7: Custom naming of USART ports - Janardhan
Use case: Want to change e.g. USART 1,2,3 into 0,1,2.
Currnetly NuttX configures so that USART ports get numbered automatically
Should be way to change NuttX config to change how serial numbering works out
Could be helpful:
General Discussions
---
D.1 :