hi there,
I have an issue with px4flow on pixhawk 4.
On latest stable firmware ı can see the optical_flow_rad topic . However apart from distance, temperature and time values, all other values are zero.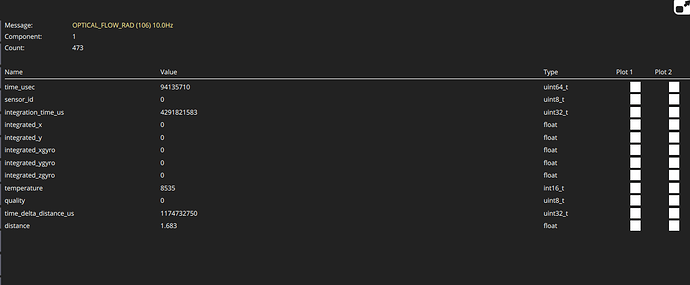 When I reboot the pixhawk, optical_flow_rad topic is completely gone.
Then on mavlink console I write px4flow start -X 4 -a 0x42, optical_flow_rad topic is back, but same as before.
Then ı have tried other firmare versions, beta version was the same as stable version. However, on master version ı was able to get optical_flow_rad topic with all values (not zero values like other versions). However, when I reboot the pixhawk, topic is gone. Then I start the px4flow from mavlink console, I get the topic back. However this time with zero values.
When I connect the px4flow to pixhawk 2.4.8 there is no issue. I get the optical_flow_rad topic with values all the times.
I am stuck, any help would be really appreciated.
Best wishes to all