Hi Guys,
This is my first time building my own plane, first time using the forum and first time at using a Pixhawk, so please bear with me if I'm posting in the wrong place or asking stupid questions I'm sure this has all been asked and answered before.
I've done as much research as I can and used the various Wiki's and YouTube etc to learn and collate the information, I believe the below diagrams to be correct but would really like someone to cast their eye over it and point out where ad if I've got it wrong. I'm really keen to learn, so haven't just jumped on here and asked for someone to tell me how to do it as I'd be cheating myself there! So have created a few diagrams of which you might tell me that one is better than the other, or, they are completely wrong! So please help me if you can.
The assumed build would be lets say a Mini Talon, so one motor and various servos, and I've got a Holybro Pixhawk 4 with the PM07 board.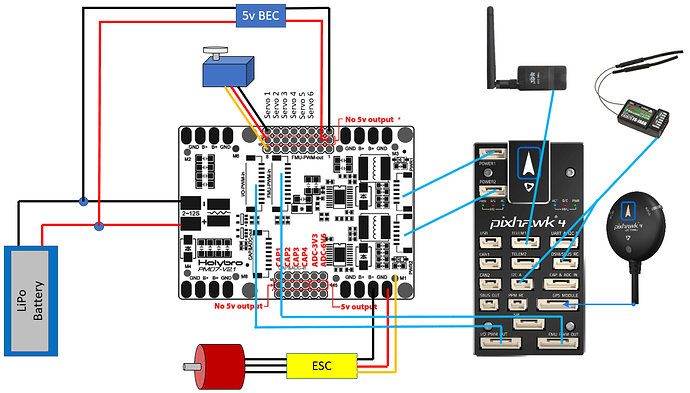 Or option 2 with the Servo power from a UBEC and the ESC straight to the battery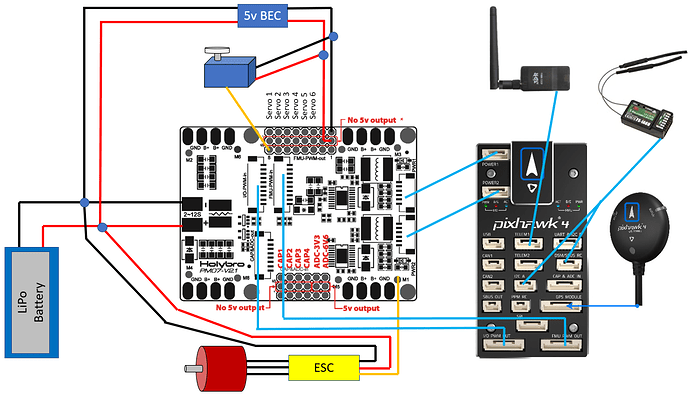 Hopefully, from the various manuals and info I've found online already I've got that correct, I'm not new to drones by any means, just have never invested the time into building them myself, so once I've got the theory right I'd like to try all manner of builds, but don't want to blow up my first purchase before even getting it into the air!
Thanks in advance,
Nick