Mar 02, 2021
Call Moderators
Agenda Items
Sensor set for v5x & v6x updates
Succesful flights on FMUv6X (Ready to be locked!)
FMUv7 Initial Talks
Dail In
Direct link to the meeting:
Meeting Minutes
Attendees
Ramon Roche (Dronecode Foundation)
Jinger Zeng (Dronecode Foundation)
Lorenz Meier (Auterion)
Iain Galloway (NXP)
Peter van der Perk (NXP)
Andrew Smith (Altium)
Alex Klimaj (ARK Electronics)
Stone White (Thone)
Scott Dixon (Amazon)
Jacob Christ (Apium)
Benjamin Perseghetti (individual)
Sarp Karayigit (Individual)
MerAskin (Individual)
Mika (Individual)
Sensor set for v5x & v6x updates
Due to global supply shortages, we are trying to help advise HW vendors on how to replace parts for both standards, here are the lists of alternatives we are discussing on the call.
IMU alternatives
Mag alternatives
Motion Tracking alternatives
Baro alternatives to the BMP388
Action: Spec the best two on paper (as long as they are affordable)
Action: Check on availability of the chosen parts.
Action: After the above, make a final decision, and switch to those.
Test flights with FMUv6X were successful!
Initial test flights by Auterion were successful, and we are ready to lock up the standard. (see flight log below)
First Flight with FMUv6X
https://review.px4.io/plot_app?log=1ead2f64-2a67-4f5d-8e5a-ccc928262c0d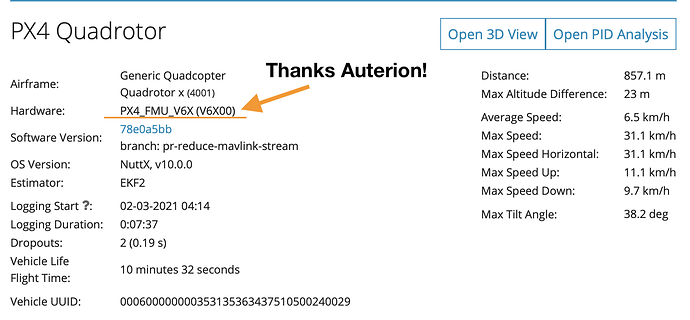 FMUv7 Initial Talks (and proposals)
Action: Propose new options for the next-generation of FMU (drop a comment below, or discuss on the #hardware channel on Slack)
---
Errata and Feedback
Let me know below if I failed to capture anything the right way, and if there are any updates, or you have feedback on the call format.