Data Comets: Open Source PX4 ULog Analysis Tool
Help us improve Data Comets with this survey!

I am very excited to share with everyone here a visualization tool I have been working on for PX4 ULogs.
First things first here is a teaser of the tool in action!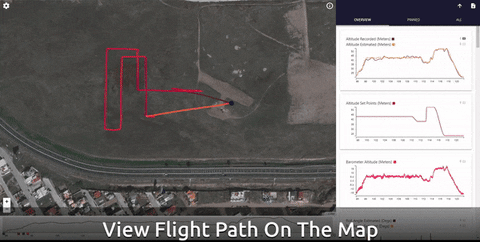 You can try the tool for yourself with the hosted version: http://www.datacomets.com/
And you can read more about the tool and get a local version (for best performance and larger logs) on the Github Page: https://github.com/dsaffo/DataComets
The main idea behind Data Comets is that flight data is recored in space as well as time. So why don't we show where data happened instead of just when. Data Comets allows you to encode flight data onto the flight path itself as a color map. Encoding jamming or noise could show you areas with bad gps signal, or encoding velocity will show you how the UAV speeds up or slows down to get to all the setpoints.
Data Comets also lets you filter the flight data shown by time using the timeline. This lets you focus on certain times of the flight, but this also lets you animate the flight through interaction.
The tool is also interactive and allows for hover for details on demand, linking charts, and pinning data to compare.
I would like this discussion page to be a place to hear your feedback as well as answer any questions about the tool you may have.
Data Comets was developed as a part of a information visualization design study for UAV flight log analysis. We are currently in the process of writing a journal paper for the study and at this stage we are hoping to evaluate Data Comets and the overall design study.
I am very excited to release this to the community and would like to grow and improve this tool with everyone.
Hope you enjoy and look forward to getting your input!
David
Also want to give a special thank you to Daniel Agar, Anthony Daniel, and Jun Kim for all their help with this study and project.