Hi All,
Apologies for the upcoming wall of text, I am facing an issue and will try to include as much relevant information.
I am attempting to run an offboard controller using a Pixhawk 6c and an Odroid Xu4 companion computer. For position, I have a vicon motion capture set up. Previously, this set up worked well but recently I have hit a roadblock and can successfully arm but not switch to offboard mode. I keep getting an error message "Switching to mode 'Offboard' is currently not possible. Check for a valid position estimate".
My code is based around this example GitHub - mavlink/c_uart_interface_example: Simple MAVLink to UART interface example for *nix systems
What I have done so far is output the messages received on the Odroid from both telemetry ports, to verify that a connection exists. It appears that the messages received depend upon the order in which I plug in the usb cables, not sure if that is relevant. Additionally, I have checked to make sure that my vehicle is creating messages to send, which it is.
I use a customized version of the 1.13.3 firmware with modifications in the "Config" mode to turn off messages that I do not use to save computational load.
Attached are a flight log in an instance where my data appeared to converge but I was still unable to arm, along with a picture of my Pixhawk setup. If it would be helpful, I can also include my parameters.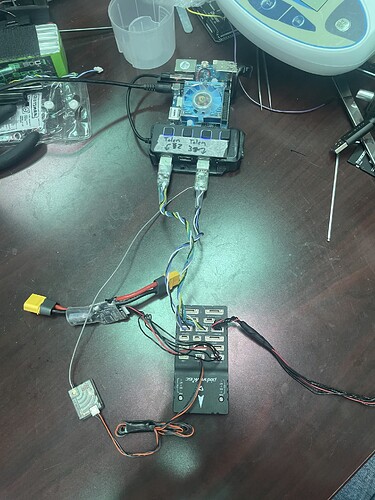 Additionally, I used to get the LOCAL_POSITION_NED mavlink message without issue and now it appears finicky at best, only really showing up sometimes. I do consistently get the ODOMETRY message. This seems indicative of mavlink messages not being sent from my Odroid to the Pixhawk.
https://logs.px4.io/plot_app?log=87916379-1c25-431c-8588-09619b30a6eb
If there is any other information that I can provide, I will be very happy to do so.