Hi, I'm trying to build my UAV with snapdragon flight. The motor control and RC input is ready.
Firmware is v1.4.1rc2 and the board is placed on a 3M foam. The frame is QAV150.
However, the UAV started to loose control after manually takeoff.
So I did another test to analysis this issue.
Increasing the throttle and decrease a little back while the UAV is starting to takeoff.
The UAV is on the ground all the time and does not jump.
Plots: http://logs.uaventure.com/view/qBkzZ9VQunNuRRsB6tGNYU#IMU_Acc_PLOT
Log: http://logs.uaventure.com/logmuncher/charts/qBkzZ9VQunNuRRsB6tGNYU/logmuncher.log
The sdlog shows the attitude was tilted while the UAV is horizontally landed
And the IMU (MPU9250) is too sensitive.
I also mount a Pixracer on my QAV250 and starting the log manually with snapdragon's log.
The Pixracer is only enabling the MPU9250. And the raw data in sensor_combined topic is quite smooth.
But the raw data in Snapdragon flight goes crazy.
MPU9250 on Pixracer:

MPU9250 on Snapdragon flight: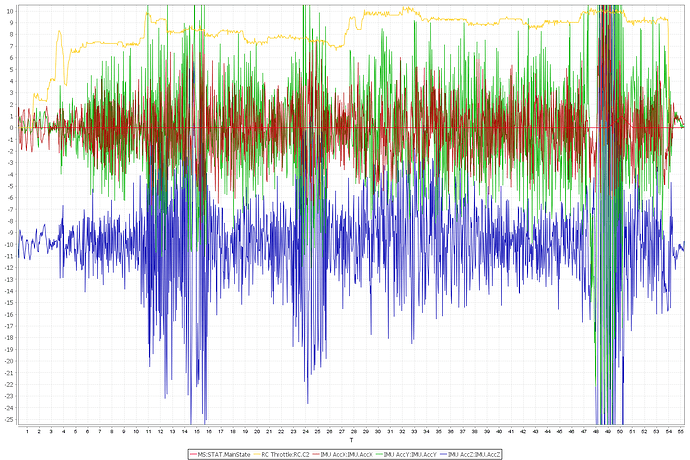 I'm also trying to downgrade the data rate, setting the LPF (A_DLPFCFG) of accelerometer to 460Hz/41Hz.
But it comes with a poor improvement and I thought it might be a bad work around solution.
MPU9250 with A_DLPFCFG=3 (41Hz):

Is there anything I can do for this issue?