Hi to everyone! I hope someone can help me.
I want to connect my drone via TCP using a 4G dongle mount on the drone, I already have all the setup with Pixhawk4 and Raspberry Pi 4. I already do flight missions via UDP connection, using the 4G Dongle for telemetry short distance missions, just for endurance flight time. I am using Mavproxy to do the UDP and TCP connection.
The steps I do to communicate the drone via TCP to the QGroundcontrol are:
mavproxy.py --master=/dev/serial0 --baudrate 921600 --out=tcpin:192.168.100.82:14550 --aircraft Mycopter

The IP is the RPI on the 4G router connection, I set the TCPin out that IP because I need that to receive en send the telemetry.
Then I create a TCP tunnel on another terminal on the RPI, using ngrok. I use this command:
ngrok tcp 14550

I select the 14550 port because I want to send and receive the information in that port of the drone that I use on the mavproxy command. It looks like this:

Finally, I go to QGround control and do a "common link" and create the TCP connection like this: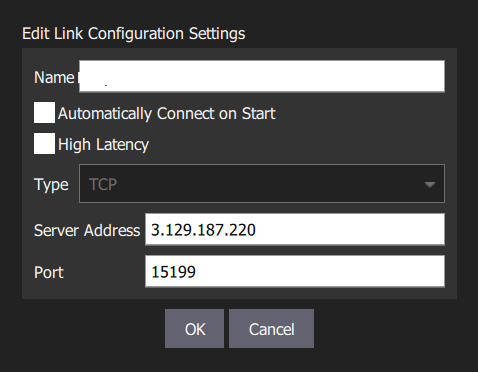 And In my terminal of the TCP show me that I made a connection but the QGround control Reject the server and never do the connection access that assigned port.
What I want to do is just Remote telemetry with 4G dongle mount on the drone, and communicate it with QGroundControl to another computer with a different Internet service.