I have successfully ran ROS2 off-board example, within a ROS2-dashing docker(gazebo gui doesn't run though, i don't know why).
Now i am trying to run multi-vehicle inside the docker.
I first build the sitl,
open up two micrortps agent in two separate terminals. using
micrortps_agent -t UDP -r 2020 -s 2019
and
micrortps_agent -t UDP -r 2022 -s 2021
and then run the command
./Tools/gazebo_sitl_multiple_run.sh -t px4_sitl_rtps -m iris -l rtps -n 2
then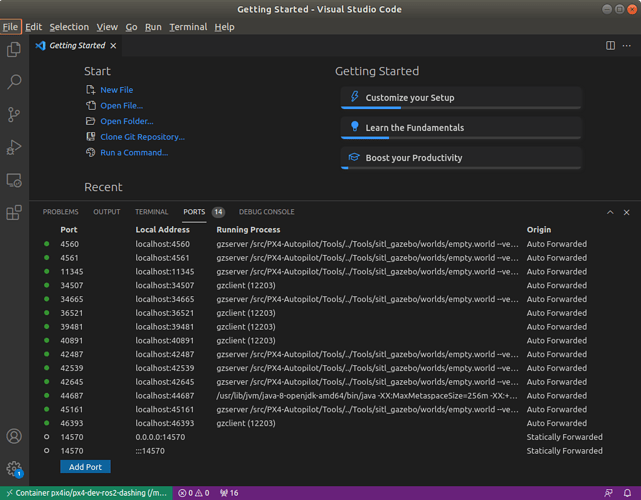 a list of ports/connections appear, but then they disappear soon.(see attached screenshot).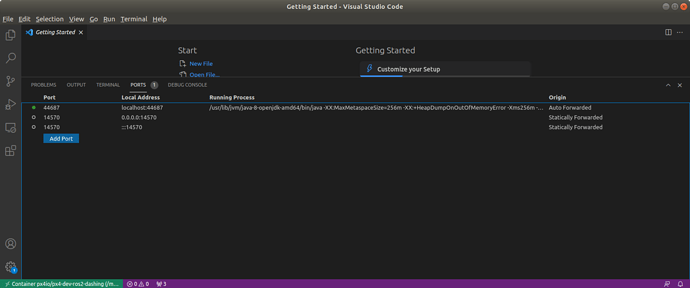 if i run
ros2 launch px4_ros_com sensor_combined_listener.launch.py
on a separate terminal, Received sensor combined data appears as long as the multiple run script is running…
so my question is, why don't i continuously get data? is there something i am doing wrong here?
and a secondary question could be how to fix gazebo gui …these are the relevant messages for gazebo gui when i run the multiple sitl gazebo script
[Err] [RenderEngine.cc:742] Can't open display: :0
[Wrn] [RenderEngine.cc:88] Unable to create X window. Rendering will be disabled
[Wrn] [RenderEngine.cc:291] Cannot initialize render engine since render path type is NONE. Ignore this warning ifrendering has been turned off on purpose.