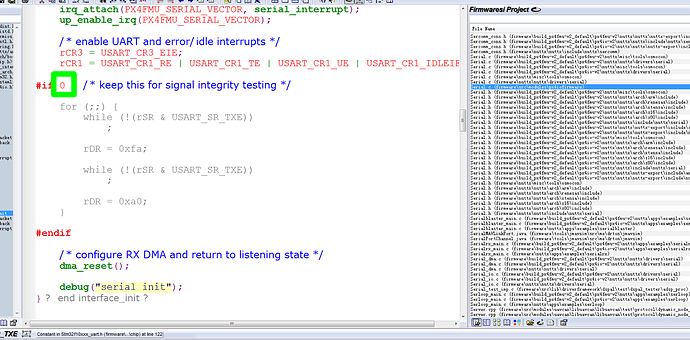 I change the number from 0 to 1 ,then i build and upload the software by usb.
Then after rebooting, the led (B/E)of stm32f4 flicker only about 5 seconds then turn off .the led(B/E) of stm32f1 only turn on about 1 seconds at the power start then turn off.
And then i change the number back from 1 to 0. then build and upload the software the console tells can not find the usb device (i think the software dead in the (for( ; ; ))) but i think the boot should be ok ,so i restart the pix hawk by unplug de usb line which connect between the pc and pixhawd.Then the led(B/E) flicker and the console erase program very successful. But after restart the pixhawk it still like before.
Why?
1.The software stil have problem ?
No. I use other's project and other's computer upload is still no ok;
2.The erase did not erase the app of STM32F4?
No,I unplug the usb line after erased ok when uploading the software.Then the led(B/E) of STM32F4 always ficker ,but the led of STM32F1 always turn off. SO i think the erase is useful.
3.The boot loader of STM32F1 is beed destory?
Do i need download the boot loader and use jlink to erase all chip and download the hex or bin of the boot loader into the STM32F1 ?
Counld you help me ?