Hi,
I've got some troubles understanding the performance of the EKF2 when using an high precession optical tracking system. I'm using an Mocap system, that provides a tracking accuracy of ~1 mm. The data is streamed to the FCU via Mavlink and then used for the position estimation. The resulting position estimate is depicted in the image below.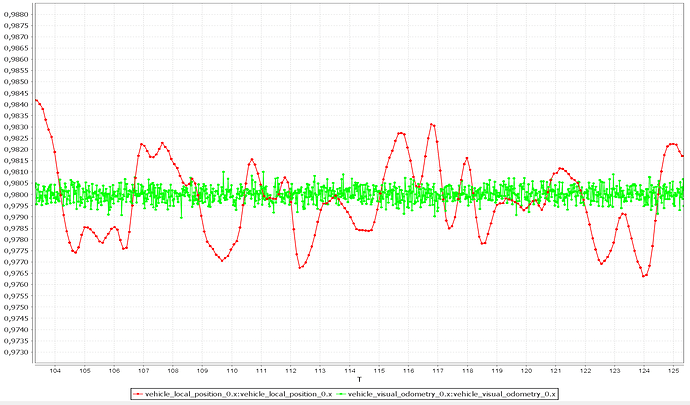 Although the drone is standing and disarmed the estimation of the EKF2 (red) oscillates way more then the data provided by the mocap system. I already reduced the EKF2_EVA_NOISE and EKF2_EVP_NOISE params to 0.001 but the output didn't improve.
I tried the same configuration as SITL simulation using Gazebo and got similar results. The corresponding logfile can be found here:
Flight Review
Could anyone provide some help how I need to tune the EKF2 in order to archive better positions estimations.
Thanks in advance!