Hi there,
I am really lost right now.
I have gone ahead with building the Caipiroshka VTOL. I had a successful maiden hover earlier in my backyard with a master build of early April, and although it was only about 20 seconds due to constrained space everything was working fine. I have a short plot of the attitude vs setpoints here (scales offset to fit on one picture, of course) and you can see that it follows it pretty well - mostly fine I'd say (bit sluggish on yaw/pitch but that is due to the elevons I guess):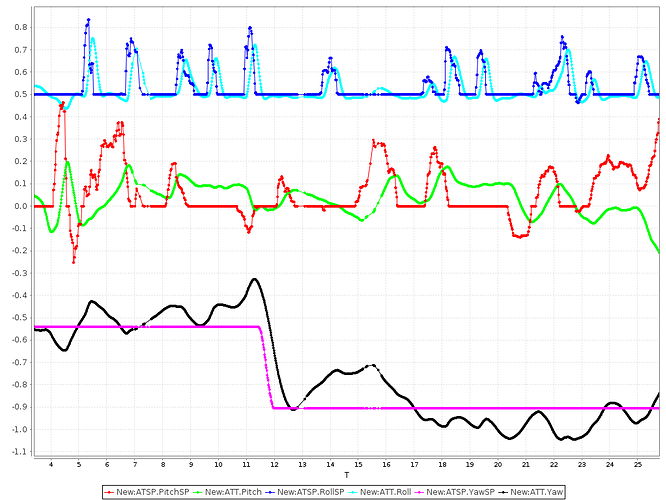 Now, I put it on the master build yesterday evening (I had the same issues with beta and master a few days ago as well). SInce then, I see the following behavior:
While holding the Caipi in my hand nose up and spinning up in MC mode, I can see that it is counteracting my movements with reasonable force and control inputs around yaw/pitch/roll are reflected correctly.
However, as soon as I take off from the ground, the plane will reproducibly pitch forward into level flight (nose forward) after a few seconds and is no longer controllable in a meaningful way.
When I look at the logs, it seems to me like the actual pitch is "inverted" and acts into the exact opposite direction as the setpoint goes.
Setup (none of these settings changed since the successful maiden hover):
Default Configuration of Caipi VTOL around a Pixracer
Compass and FC both mounted with Roll 90 / Yaw 90
AUX5 / AUX6 PWM outputs are inverted as the Servos would otherwise turn in the wrong direction
Circuit breaker for Airspeed Sensor set as I am waiting for Nick's active I2C Hub for it to work correctly
AUX1 mapped to a receiver channel and the plane also reacts on switching it to fixed wing mode (on the bench)
Test changes done:
I tried VT_OPT_RECOV_EN = 1 with no noticeable effect
Sensors calibrated newly several times (Compass and artificial horizon shown correctly)
@LorenzMeier advised me to get in touch with you @tumbili whether you can reproduce the same issues on your reference platform with the current master? Any hints on what this could be due to?
Some logs:
Thanks for your help,
Daniel