Hello!
Please excuse my ignorance, I am very newb. I am trying to install DronecodeSDK, and it seems to install without complaining (on a fresh VMWare with Kubuntu 18.04 LTS), but all of the unit tests fail… It does not matter which of the commands I run, I get the following type of output: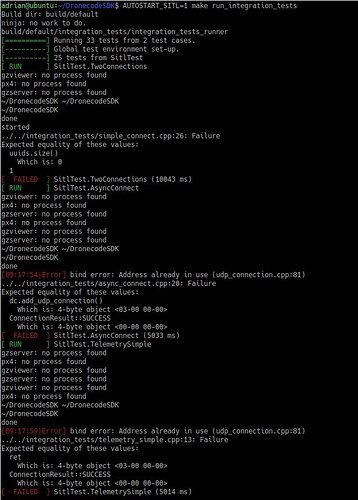 I am really quite unsure what to do… at some point I ran "make posix_sitl_default gazebo" in a separate console at the same time, and then the tests seemed happy for a little while, but then I was not able to reproduce the results.
If anyone has any tips or pointers, I would appreciate greatly!
A nerd in need.
PS: the logfiles generated by start_px4_sitl.sh in home/DronecodeSDK/build/default/integration_tests generated the following:


PPS: The examples run smoothly though. There does not seem to be a problem there. It works both in jMavSim and in Gazebo.