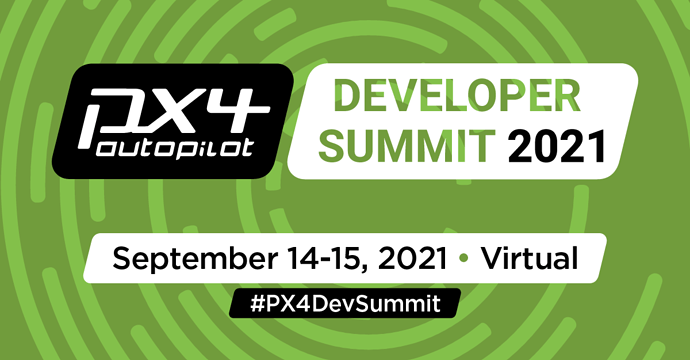 Community, I wanted to give you the good news, we are bringing back our flagship event on September 14th and 15th online.
The PX4 Developer Summit 2021 will be an inclusive virtual experience, with an improved format including ample opportunities for the community to network, learn, plan, and collaborate throughout the two days.
We decided to go virtual again this year due to the global travel restrictions and the latent risk of COVID-19, but mostly because we felt emboldened by your response to our online event last year, and we think we can deliver on a much-improved experience. We loved the level of engagement and response from all of you. And we are bringing more staff, volunteers, and tools to make sure the event is as successful as last year's.
The event website will go live soon, and you will be able to register for the event. The first thing you need to know is that we are moving on from YouTube to a virtual conference platform. We evaluated many platforms and think our chosen partner will deliver on our promise of inclusive community collaboration above all else.
The next thing you need to know is that the event won't be free this year. We are counting on our partner organizations and on the community to help the Dronecode Foundation in its mission to sustain open-source and open-standard projects.
We are working on programs together with our most prominent contributing organizations to guarantee everyone from the community has the opportunity to participate. You will notice there will be ample Sponsorship opportunities and ways to support the community. Please help us by showing your support to our sponsors. They are helping us put together the most ambitious PX4 Developer Summit to date and deserve our support, for they are believing and trusting in the potential of our community.
Thanks to our sponsors, there will be ample opportunities for everyone in the community to attend, and we will make our best effort to make the event available for everyone in the community regardless of where you are (geographically) and your current situation. This is something Dr. Lorenz Meier and myself have been working on hands-on since it's one of the primary missions of the Dronecode Foundation this year.
Keep in mind that I'm intentionally not sharing all of the information yet, because we have many surprises planned. The team is working really hard to deliver the best event we can and meet your expectations. Please be patient.
I wish I could share more info, but that's all I can give you for now. However, I will be responding to a few questions on this thread, provided I have the time, and the questions are on topic, and it's about the info I can share.
And above all else, thank you for your neverending support. The event team is super excited to see this event come to life. We hope you are as well.
Thanks, and stay tuned for more information!