Hi,
Today we found a quite interesting error in QGC.
Our setup is not simple. Therefore, there is drawing.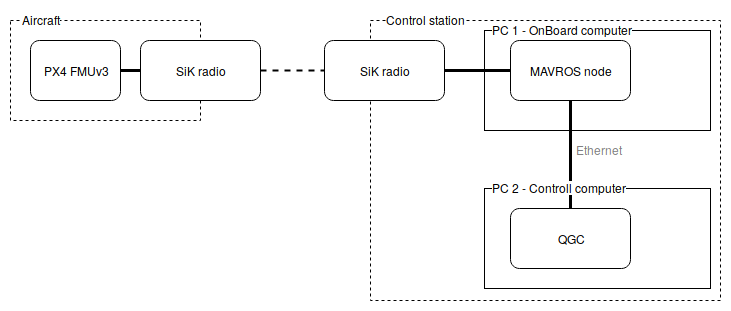 Booth computers use Ubuntu and there are connected directly only through one switch. (Without other network devices)
Problem
We do not use this setup for the first time. And this error happened for us for the first time. We were calibration before the flight. So I opened QGC, sensors panel. I have clicked on accel calibration. And pictures of aircraft orientation did not show up. I was quite confused about that.
There were only a progress bar and a screen with text output. That text shows some status of calibration. When the calibration was complete, the green progress bar was still loading.
I have tried few times to restart ros and mavros on PC1, restart QGC on PC2, restart aircraft. I have also tried different QGC version… Nothing of this helped.
Then I solved it by connecting the receiver directly to PC2 through USB and restarting QGC.
So, There are some functional differences in communication through UDP and USB? Is there any way to hide/show calibration helpers?