Hi all,
I want to get local position messages after EKF2 filtering. I Publish the vehicle_visual_odometry messages but nothing changes in the vehicle_odometry and vehicle_local_position messages.
My Env:
Ubuntu 18.04
ROS Melodic
FastDDS-2.0.2
Fast-RTPS-Gen
QGroundControl v4.2.0
PX4 - V 1.12.3 / make px4_fmu-v5_rtps
hardware: Pixhawk 4 Mini
vehicle setup:
EKF2_AID_MASK = 24 (vision position fusion and vision yaw fusion were activated)
MAV_ODOM_LP = 1 or MAV_ODOM_LP = 0
create an bridge app with "fastrtpsgen -example x64Linux2.6gcc …/micrortps_agent/idl/vehicle_visual_odom.idl " command
start the client with: micrortps_client start -d /dev/ttyS1 -t UART -b 460800
start the agent with: ./micrortps_agent -t UART -d /dev/ttyUSB0 -b 460800
PS: Other baud rates do not work I could not figure it out.
In my publisher node fill the vehicle_visual_odometry object and publish it. The agent sent the messages to the client and I see the vehicle_visual_odometry messages in QGroundControl.
But I could not see any changes in the vehicle_odometry messages in QGroundControl.
You could see the changes in the image below.
In QGroundControl I see only Odometry messages in Mavlink Inspector->ODOMETRY you could see in the image below.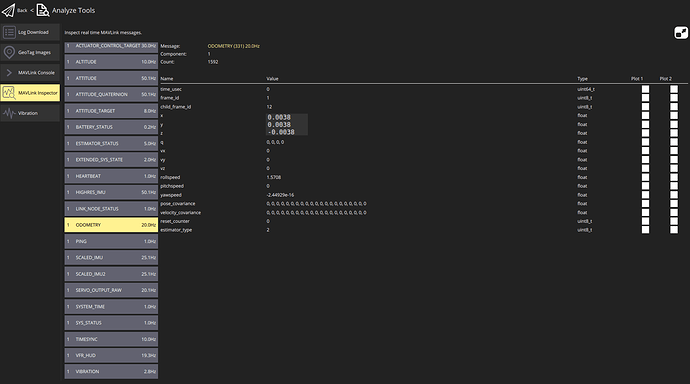 Do you have any idea or suggestion for getting the local position & odometry messages (filtered via ekf2)?