Hi,
i'm trying to get my quad set up with an external vision system for indoor flying.
Vision position data looks reliable and is provided via:

where 'tvecs' holds the current position (FRD and NED are aligned) in mm.
At the same time i'm reading the EKF position estimate via:


Moving the drone up/down, front/back, left/right yields the plots below where blue shows the vision estimate and orange the EKF estimate. While the EKF tracks the up/down, the other directions don't seem to care for vision data.

EKF2_AID_MASK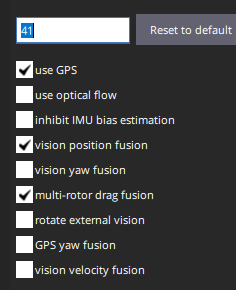 EKF2_EVP settings assuming this forces the EKF to consider the EV data to be noise"free" and valid.

Any suggestions how to fix this issue?