Hello!
We have had an issue a few times now, where our VTOL UAV reports "Failsafe enabled: no global position." and enters descent mode. However, the magnetometer readings looks fine from what I can tell, and there is no significant correlation between thrust and magnetometer norm.
The log can be found here: https://logs.px4.io/plot_app?log=5a326d75-fc5a-402f-8715-710d2305440c
We are running PX4 v1.11.2.
Here is a plot of the magnetometer: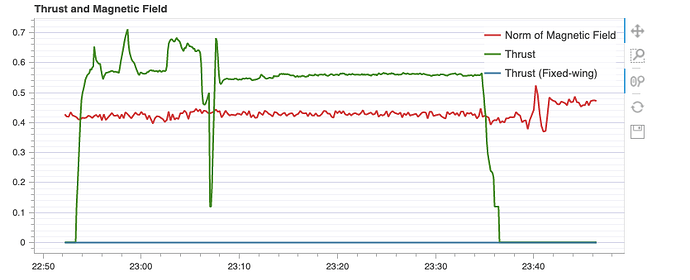 The estimator watchdog says that the velocity check bit went off.


The GPS jamming indicator is close to 40 for the entire flight, not sure if this may be a bit high:

Not sure if upgrading to PX4 v1.12 may improve this or not.
We are not really sure where the error lies. All help will be greatly appreciated.