Hi,
as a project work at University we are working with an octocopter in coax configuration. One of our tasks is, to switch from Mission Planner and Ardupilot to QGC and PX4. The octocopter worked fine with Ardupilot and Mission Planner. We changed nothing on the hardware side, but with PX4 and QGC we can't get the motors spinning.
We configured the Pixhawk as shown in the online documentation. It is also possible to test the motors within the motor test menu in QGC, (four of the motors are spinning, when we pull the sliders) but when we arm the copter in manual mode and raise the throttle at the RC nothing happens. There are no error messages in QGC and we are able to arm the octocopter after pressing the safety switch.
As shown in the attached pictures, the Pixhawk receives the right signals from the RC, but no PWM output is given to the motors.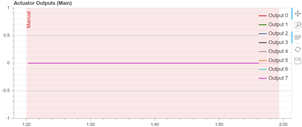 We tried different firmware versions (1.11.1, 1.11 Beta) and airframes - with no success.
Our Setup:
Flightcontroller: Pixhawk 1
PX4 Firmware: 1.11.1 (1.11 Beta also tested)
QGC Version: 4.0.10
ESC: Hacker UAV-Control Pro 20 Opto
RC: Graupner MZ18
Receiver: Graupner GR 12-L (with PWM - PPM Converter)
Does anybody know, what the problem might be? We are running out of ideas.
Thanks for your help!