Hi all,
I am using the (Ignition) Gazebo simulator with PX4. I'm trying to physically link multiple x500 drones with a custom 'tether' SDF that I have created.
In order to create joints between multiple SDF models, they must be nested together in a parent model. Doing this changes the name of the Gazebo model to '<parent_model_name>/model/<child_model_name>' e.g. connected_group/model/x500. I can successfully create this structure in Gazebo by simply including multiple x500 models into an sdf world (either the default or otherwise) and adding the link in the higher-level model in the world.
The problem arrises when trying to connect PX4 SITL instances to the nested x500 models. Following the instructions here I can spawn multiple PX4 instances each connected to different x500 models included in the world (using the PX4_GZ_MODEL_NAME argument). However, although I can see that the model name in each PX4 instance is successfully set (e.g. to connected_group/model/x500_1), arming fails as the SITL instance cannot find multiple sensors (e.g. the compass, barometer - see below). Note however that the data from the imu appears to be received as the accelerometer and gyro are being found. I believe this must be because the imu data is published on a gazebo topic (see second screenshot) but I don't understand the details of how this works/if it's relevant. Perhaps the issue is something to do with not setting the "simulation model" in gz_bridge (seen in the screenshot below).
Does anyone know what I have to do to get the PX4 SITL to find nested models in Gazebo? An example (terminal) output of the PX4_sitl failing to connect is seen below: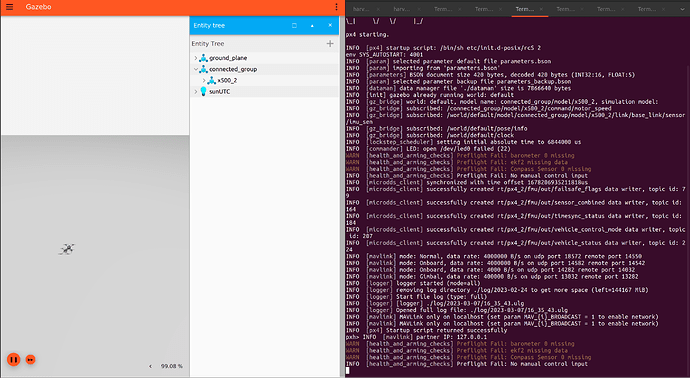 I set the PX4_GZ_MODEL_NAME argument by looking at the output of 'ign topic -l' after the world with the nested model is spawned - see below:

Thanks in advance!
Edit: Rolling forward to a more updated version of the PX4 firmware and attempting to connect to a drone already in the simulation (not even nested as above, but simply included in the world directly and named 'x500_1'), I get the following error message:

This is making me think that perhaps the spawn command is starting some background processes to do with gz_bridge that simply adding the model to a world is not (notice that the 'simulation model' is empty). Any ideas on where to look to get a better understanding of this?