Description
I am trying to use a locally built MAVSDK to execute mavsdk tests on PX4 SITL, the commands I have used are as follows:
MAVSDK Local Install
Following the doc : Building library from Source · MAVSDK Guide
cmake -DCMAKE_BUILD_TYPE=Release -Bbuild/default -H.
sudo cmake --build build/default --target install

Note: I omitted the -DCMAKE_INSTALL_PREFIX=install part on the first command to make sure it will be configured to be installed system-wide : /usr/local, which is a default CMake Behavior (I believe).
Note: I did the sudo command on the second command, to make sure it installs system wide
PX4 SITL build
Following the SITL tests.yaml worksflow : PX4-Autopilot/sitl_tests.yml at 37fa4bccb638410734e077ef18c3c9c0ecd117c4 · PX4/PX4-Autopilot · GitHub
Build mavsdk_tests target
make px4_sitl_default gazebo mavsdk_tests
Run mavsdk_test_runner.py file
test/mavsdk_tests/mavsdk_test_runner.py --speed-factor 20 --abort-early --case "Follow target*" test/mavsdk_tests/configs/sitl.json --verbose
Result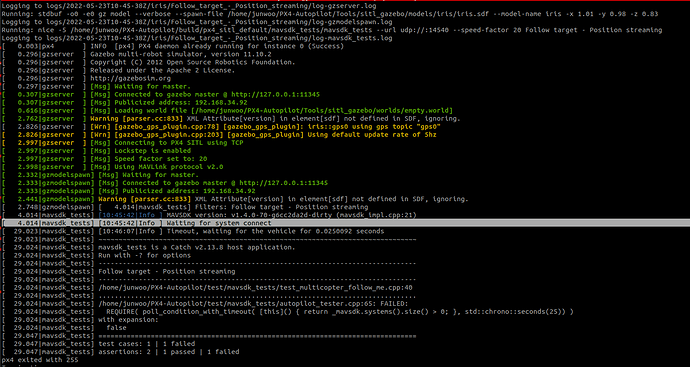 The MAVSDK doesn't connect to the drone.
Question
I am quite sure that this issue arises from the MAVSDK install not being correct. I am wondering:
Do I always have to do rm -rf build/default, if I have done the build configuration command
cmake -DCMAKE_BUILD_TYPE=Release -DCMAKE_INSTALL_PREFIX=install -Bbuild/default -H. beforehand?
Any other reason why the MAVSDK would not be working properly?
Posting on Discuss forum for history prevention, instead of posting on PX4 Slack (where after 10,000 messages the history gets deleted)