Hi,
I started an internship in a french drone company last week. The purpose of my internship is to make their VTOL aircraft make a simple flight. The drone has wings and 5 groups of motors.
The fact is I am total beginner in coding drones… I learnt C, Python and some Unix utilisation at school but that's all. And since nobody knows px4 in the company, I have to start from 0.
For the board, they bought the Pixhawk 3 pro pack (https://store.drotek.com/pixhawk-3-pro-pack) so I'm currently following the 'Getting started' tutorial here : https://dev.px4.io/en/apps/hello_sky.html
I managed to install the toolchain and now I'm stuck in the first Hello Sky tutorial :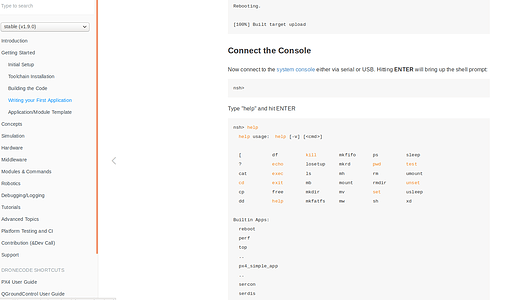 I uploaded the script in the board with USB but now I can't get this 'System console' and I don't understand what is it precisely. How can I get to this 'nsh>' prompt ?
I'm not sure if it's the right place to post, tell me if it's not. This project is a real challenge for me so if you have any advices or if you need more precisions please tell me also !!
Thank you