Happy new year!!!
I am calculate quaternion rate with Python.But there are problems and I dont know why.I think there must be something wrong with IMU update.
My calculated and measured values just like this picture.The calculated value is a solid line and the measured value is a dashed line.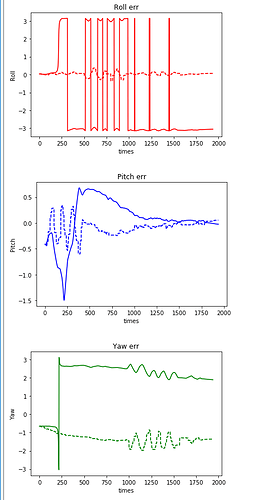 My IMU update code just like this. Before the calculation, I used a low-pass filter with Acc and Gyro.
def update(self, gyro, acc):
    gyro = np.matrix(gyro)
    acc = np.matrix(acc)
    q_matrix = np.dot(self.q.T,self.q)
    acc = acc / np.sqrt(np.sum(np.multiply(acc,acc)))
    
    
    vx = 2*(q_matrix[1,3] - q_matrix[0,2])
    vy = 2*(q_matrix[0,1] + q_matrix[2,3])
    vz = q_matrix[0,0] - q_matrix[1,1] - q_matrix[2,2] + q_matrix[3,3]
    
    
    ax = acc[0,0]
    ay = acc[0,1]
    az = acc[0,2]
    ex = ay * vz - az * vy
    ey = az * vx - ax * vz
    ez = ax * vy - ay * vx
    
    
    self.exInt += ex * self.Ki
    self.eyInt += ey * self.Ki
    self.ezInt += ez * self.Ki
    
    
    gx = gyro[0,0]
    gy = gyro[0,1]
    gz = gyro[0,2]
    gx += self.Kp * ex + self.exInt
    gy += self.Kp * ey + self.eyInt
    gz += self.Kp * ez + self.ezInt
    
    
    q0t = self.q[0,0]
    q1t = self.q[0,1]
    q2t = self.q[0,2]
    q3t = self.q[0,3]
    self.q[0,0] = q0t + (-q1t*gx - q2t*gy -q3t*gz) * self.halfT
    self.q[0,1] = q1t + (q0t*gx + q2t*gz -q3t*gy) * self.halfT
    self.q[0,2] = q2t + (q0t*gy - q1t*gz +q3t*gx) * self.halfT
    self.q[0,3] = q3t + (q0t*gz + q1t*gy -q2t*gx) * self.halfT
    self.q = self.q / np.sqrt(np.sum(np.multiply(self.q, self.q)))
    
    q0 = self.q[0,0]
    q1 = self.q[0,1]
    q2 = self.q[0,2]
    q3 = self.q[0,3]
    
    roll = math.atan2(2*(q0*q1 + q2*q3), 1 - 2*(q1*q1 + q2*q2))
    pitch = math.asin(2*(q0*q2 - q3*q1))
    yaw = math.atan2(2*(q0*q3 + q1*q2), 1 - 2*(q2*q2 + q3*q3))