I recently acquired a Skydroid M12L that doesn't have the capability of mixing two switches into one channel as a Taranis. So, for the first time, I tried using the Flight Modes> Switch Settings and have some questions.
SETUP:
QGC 3.5.0; PX4 v1.8.0Dev
Tx Assignments:
CH6 : 3-way switch has Position, Altitude and Stabilize
CH10 : 2-way switch for Manual
CH9 : 2-way switch for Loiter
CH11 : 2-way switch for RTL
CH5 : 2-way switch to Arm/Disarm
ISSUE/ Questions: This is viewed from the Flight Modes page during initial bench setup.
QGC doesn't call out or register the flight mode when the channel is activated. I'm presuming the flight mode changes because when I switch on Loiter or RTL, it calls out "REJECT AUTO HOLD" or "REJECT AUTO RTL".
Based on the call outs above, I'm presuming the 2-way switch mode overrides the 3-way switch Flight Modes?
If the above override is true, shouldn't the yellow highlight on the 3-way turn off and only yellow highlight the actual active flight mode?
I do get a Parameter Missing popup. Would that missing parameter resolve this issue in v1.8.2?
@DonLakeFlyer @dagar You input/ resolution is highly appreciated.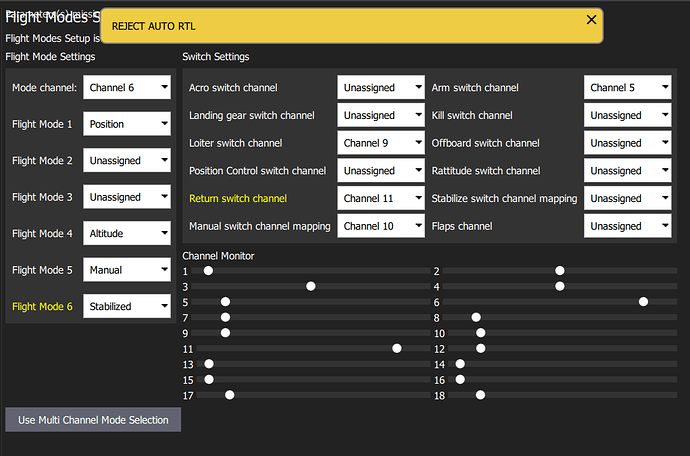 Thanks,